SBI (Serum Bovine Immunoglobulins)
SBI Protect is the only purified, dairy-free source of immunoglobulin G (IgG) available as a dietary supplement. Pure IgG helps to maintain a healthy intestinal immune system by binding a broad range of microbes and toxins within the gut lumen.
Overview 
Autoimmunity is on the rise globally, and recent research demonstrates a connection between autoimmunity and intestinal permeability. The discovery that the gut barrier plays a key role in immune health fueled the search to strengthen it. In that search, researchers found that the binding capabilities of immunoglobulins have a positive effect on gut barrier function.1 Immunoglobulins bind microbes and toxins in the GI tract and eliminate them prior to immune system activation. As these unwanted triggers are removed, it resets healthy immune tolerance and builds a stronger barrier to the external environment.
SBI and GI Health 
The GI tract acts as the gateway to the rest of the body, making the health of the gut barrier critical to overall health. Environmental triggers like poor diet, high stress and toxin exposure can lead to GI challenges. In practice, probiotics are a natural choice for supporting beneficial bacteria in the gut, but supplementation to eliminate unwanted microbes should also be considered. SBI has been shown to bind microbes and toxins, further enhancing microbiome balance and facilitating gut barrier strength. Broad-spectrum binding capabilities demonstrate the positive influence of nonallergenic forms of immunoglobulins. As seen in several studies, SBI has the potential to bind many types of microbes and toxins. This binding and elimination decreases microbe and toxin encounters by the immune system and resets immune tolerance. 
Here is how it works: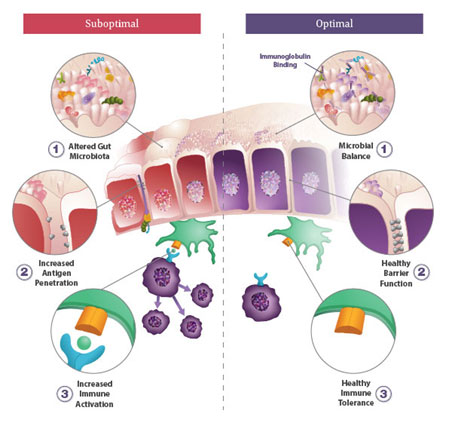 SBI and Immune Health 
Occasionally, the immune system becomes overactive and immune tolerance drops. When immune tolerance is lost, the checks and balances of antibody production can be affected. To reestablish immune tolerance and appropriate activation, the burden on the immune system must be reduced. Reducing the reasons to respond allows the tissue to maintain normal inflammatory balance and creates an environment for normal tissue repair and immune reconstitution.
Why Serum-derived Bovine Immunoglobulins (SBI)?
Several studies explain that oral administration of SBI with high levels of IgG help:
Improve weight management
Normalize gut barrier function
Improves immune function
Improves composition of the GI microflora
Enhances digestive processes
Neutralize bacterial toxins
Decrease intestinal inflammation

Serum-derived bovine immunoglobulins (SBI) is:
Gluten Free
Dairy Free
Corn Free
Yeast Free
Soy Free
No Artificial Colors and Flavors
No Binders or Fillers

*These statements have not been evaluated by the Food and Drug Administration (FDA). These products are not meant to diagnose' treat or cure any disease or medical condition. Please consult your health professional before starting any exercise or nutritional supplement program.