Skin Products
Trim & Tone Body Gel
This topical gel invigorates and tones the skin by stimulating vascular circulation which helps reduce appearance of cellulite. Enriched with powerful antioxidants and has Vitamin C microbeads to improve the skin's health. Great for use after workouts to soothe tired muscles.
Key Attributes
Contains vaso dilators, Guarana and Bladderwrack, which have been shown to increase healthy blood flow
Powerful antioxidants: Elderberry, Coenzyme A, Sage Extract, Rosemary Extract, and Horsetail Extract
Microbeads carry 10% Stabilized Vitamin C to aid in skin firming and free radical damage repair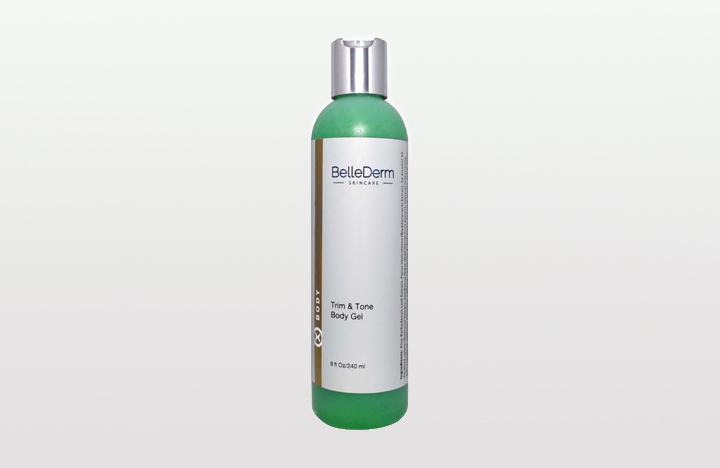 Key Ingredients
Bladderwrack
A mineral rich ingredient that helps draw toxins out of the skin and helps reduce fluid retention
Known to have water-binding properties, which helps hydrate the skin

Guarana
A tropical berry from the Amazon, guarana dilates the blood vessels and thereby increases blood flow
Has demonstrated some antioxidant activity within the body

Caffeine
Has been shown to induce lipolysis when applied topically
Tightens the blood vessels, stimulates the breakdown of fat cells and helps rid the body of toxins

Dermal Repair Cream
Dermal Repair Cream is an ultra-rich intense moisturizer that hydrates and replenishes dry skin with the highest levels of antioxidants. It is ideal for mature skin with signs of sun damage, or women who want to prevent the signs of aging, and restore the skin's natural beauty.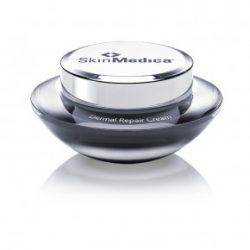 With ultra-hydration, the face is left feeling smooth and refreshed all day long. The vitamins E & C in this cream brighten and firm your skin, leaving you wrinkle free. In addition, Dermal Repair Cream uses algae extract, an extract derived from freshwater plants. Algae conditions, softens, detoxifies the skin, all while replenishing essential vitamins and minerals.
Key ingredients deeply penetrate the surface of the skin while protecting against environmental aggressors with:
Vitamin C:

helping even skin tone and impart a brighter complexion. 

Vitamin E:

repels free radicals; helps visibly smooth over wrinkles and fine lines.

Hyaluronic Acid:

instantly plumps skin for a visibly smoother surface; retains water in skin.

Omega-3 Fatty Acids:

diminishes signs of aging; promotes healthy skin cell production.
Dermal Repair Cream should be applied twice daily after cleansing, toning and applying treatment products. Apply a small amount into your hand and gently massage into the skin – apply to the face, neck, and décolleté. Dermal Repair Cream can be used as long as needed to improve the overall condition of the skin.
Tensage
Tensage, with patented SCA biorepair technology, regenerates and heals skin that has been damaged by photoaging or dermatologic treatments. Tensage is a line of products designed to provide anti-aging therapy to aged or treated skin. It is designed to either be the primary home regimen, to supplement a current regimen, or to complement treatment protocol.
What is SCA?
Cryptomphalus aspersa, a type of prehistoric snail, came from a time when life was only possible in the sea. It has survived for more than 600 million years, through changes in the earth that killed off entire species, including the dinosaurs. How did this little creature survive what giant lizards could not?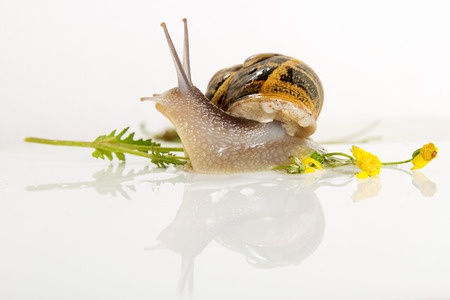 These snails had to adapt to their new surroundings as they colonized to land. During this evolution they developed defense systems to deal with the environmental attacks they encountered; such as cold, heat, dryness, damp, radiation and chemical agents, just to name a few. It is believed that the conditions then were even more extreme than our present conditions. Over time, these snails evolved into the land-loving creatures we know today and their ability to respond to external assaults by producing a complex glycoprotein secretion, known as SCA (which stands for Secretion of the Cryptomphalus Aspersa) has evolved along with that. This defensive secretion regenerates the snail's damaged skin structure in less than 48 hours.
After years of research, European scientists discovered a way to harness this animal's defensive secretion for human use. (No snails are harmed in the collection of SCA Technology or in the making of any of the Tensage products. The secretion is filtered for purity before being added to the products.) SCA's clinical effectiveness was first shown in 1986 when used as a treatment for radiodermatitis resulting from the disaster at the Chernobyl Nuclear Power Plant. Additional clinical effectiveness followed with the treatment of lesions produced by ionizing radiation including thermal burns and the regeneration of skin damaged by solar radiation. These initial treatments were using an SCA strength 4 product, equivalent to the Tensage Firming Cream. Patients saw an improvement in the erythema and inflammation in as little as a week of treatment and total resolution within 4 weeks time.
This is the scientific secret of the snail, and the foundation for the Tensage family of products: Rapid recovery and repair on and through the skin. SCA is a growth factor, the only one designed by nature to penetrate through the skin that stimulates regrowth of the foundation of the skin to rebuild the structure and overall wellness of the skin.
The growth factor in Tensage's SCA Biorepair Technology stimulates the skin's natural regeneration mechanisms, increasing the number and activity of Fibroblasts (which generate collagen, elastin, and hyaluronic acid), building up the underlying architecture of the skin, and providing antioxidant activity against skin-damaging free radicals. This mix of proteins works to help skin regenerate tissue that is lost during the aging process and to help prevent further breakdown.
Tensage with SCA Biorepair Technology provides:
Firmer skin with renewed elasticity
Smoothing of fine lines
Softening of coarse wrinkles
Increased hydration for softer skin
Faster recovery following dermal procedures
SCA Biorepair Technology is available in a variety of strengths exclusively through the Tensage line of products. Each of the Tensage products has a Repair Index Number which indicates the strength of the product.
All three of the Tensage creams supplement and maintain the results of the Tensage Intensive Ampoules (SCA 40 Repair Index).
All three Tensage Creams have SCA Technology providing the primary growth factor benefits of each cream. The three creams come in varying strengths for varying levels of concern. As you can see from the pictures above, the SCA 4 cream is effective even in treating a severe case of radiodermatitis without using the ampoules. The ampoules are ideal to kickstart a treatment regimen, but it is important to note that the creams are effective on their own in addition to being a key part of any Tensage regimen.
The creams aren't just about delivering SCA to the skin, they also provide hydration to smooth and soften the skin. Each of the creams utilize Saccharide Isomerate. This carbohydrate complex is similar to that of the stratum corneum and helps to retain moisture in the skin. The "Hygroplex" complex is also found in each of the creams. This complex is designed to mimic the NMF, working to bind water in the skin and helping to prevent moisture loss. All three creams also contain Urea, Dextrin, Alanine, Glutamic Acid, Aspartic Acid and Hexyl Nicotinate for additional moisturization.
Tensage Options
Tensage Soothing Cream
Tensage Soothing Cream is a light, non-comedogenic cream that helps to prevent and slow the visible signs of aging and can also be used to soothe skin following dermatologic treatments. Its exclusive technology leaves skin smoother and brighter. With a 3 SCA Repair Index, the Soothing Cream is ideal for those who want to maintain healthy skin.
Designed to sooth the skin, Tensage Soothing Cream contains the following ingredients:
Squalane – Shown to help with moisture retention
Boswellia Serrata Extract – Shown to have anti-inflammatory benefits
Cholesterol – Used for its water-binding properties to keep moisture in the skin
Sodium Hyaluronate (Hyaluronic Acid) – Used for its water binding properties
Directions for use: Apply Tensage Soothing Cream to entire face once or twice daily after cleansing. Can be applied following the application of the Tensage Intensive Ampoule treatment, once the serum has absorbed.
Tensage Firming Cream
Tensage Firming Cream is a unique, innovative gel-cream that helps to slow and reduce the visible signs of aging and can also be used to soothe skin following dermatologic treatments. Tensage Firming Cream has a creamy, luxurious feel and is rapidly absorbed, regenerating the skin as it enhances suppleness and smoothness.
Its exclusive technology leaves skin firmer and brighter. With a 4 Repair Index, the Firming Cream is ideal for those beginning to show the signs of aging.
Tensage Firming Cream contains a higher level of SCA along with the following attributes that provide enhanced moisturization and improved SCA delivery:
Calcium Carbonate – Aids in product absorption and maintains product pH
"Gelcream" base – Emulsion of silicon in water that is incorporated into a cellulose gel
Delivers a light feeling cream that absorbs quickly like a gel
Moisturizes without feeling heavy
Directions for use: Apply Tensage Firming Cream to entire face once or twice daily after cleansing. Tensage Firming Cream can be applied following the application of the Tensage Intensive Ampoule treatment, once the serum has absorbed.
Tensage Advanced Cream
This rich, creamy gel was specially designed to be used on a daily basis. It is non-oily and rapidly absorbed. This unique formulation regenerates and enhances aging and damaged skin. Tensage Advanced Cream can also be used to soothe skin following dermatologic treatments. Its exclusive technology improves skin tone, firmness, and elasticity. With a 6 Repair Index, Tensage Advanced Cream delivers this advanced natural growth factor for skin regeneration and is ideal for those with advanced signs of aging and damage.
Tensage Advanced Cream was developed to provide a high level of repair and tightening for more damaged skin. Advanced Cream has the highest level of SCA – 6 – as well as following ingredients:
Hydronutritive complex – Hydrovyton 24, Hygroplex and Pentavitin replicate the skin's natural moisturizing factors (NMF) to provide intensive and sustained lipid restoration and moisturization
Limnanthes Alba Seed Oil – is known for its hydrating capabilities and exceptional stability
Hydrolized Soy Protein (aka Tensderm) – Active phytoestrogens and calcium helping to re-firm mature skin as it increases fibroblast contractibility and cellular cohesion to help repair damaged cells
Directions for use: Apply Tensage Advanced Cream to entire face once or twice daily after cleansing. Tensage Advanced Cream can be applied following the application of Tensage Intensive Ampoule treatment, once the serum has absorbed.
Now you know the Secret Science of the Snail and how scientists have been able to utilize the unique SCA Biorepair Technology to repair and rebuild patients' skin. Tensage, with patented SCA Biorepair Technology regenerates and heals skin that has been damaged by photoaging and dermatologic treatments.
Stop the Clock
Stop the Clock works to repair and protect the skin from the signs of aging in 3 ways:
DNA Repair
Anti-oxidant protection
SPF 50 and PA +++

DNA Repair
Stop the Clock utilizes a DNA repair complex of ingredients that provide multiple methods of repair. Unirepair brings together the amino acids acetyl tyrosine and proline with hydrolyzed vegetable protein and adenosine triphosphate to help boost the energy level of damaged cells. This has a twofold action on DNA repair, first reducing oxidation and increasing DNA survival, then boosting enzymatic pathways to speed the natural repair process.
Antioxidant Protection
Stop the Clock is packed with antioxidants that help to protect the skin from the damage that Reactive Oxygen Species (ROS) and free radicals can cause within the skin.
Unicaria tomentosa ("Cat's Claw") extract is a plant extract from the Amazon River basin that helps to not only protect against free radicals but also provides an anti-inflammatory action and protects against UV-induced cell death, enhancing the natural DNA repair process.
Porphyra umbilicalis is a red algae extract that provides additional protection against the aging effects of UVA damage.
Hydrolyzed Potato Protein has been shown to protect cells by inhibiting MMP activities and inhibiting elastase to prevent elastin degradation.
Thermus thermophillus extract is a heat-activated enzyme that mimics the skin's natural ROS scavengers. Because enzymes are unchanged by their reaction with ROS, they have relatively unlimited potential as an antioxidant.
This unique combination of ingredients makes Stop the Clock an active part of your skin rejuvenation regimen and not just a preventative product that can easily be skipped.
NuGene Universal Serum
To help maintain IPL results — or even as an alternative — we're excited to introduce you to a new product that you can use at home, twice a day, to get brighter, firmer, more elastic, and younger-looking skin with a healthy, even tone. It can even reduce the appearance of stubborn acne rosacea. Sounds too good to be true? Look at the results:
NuGene Universal Serum uses patent-pending stem cell technology to decrease the appearance of rosacea and hyperpigmentation, and improve skin's firmness, elasticity, and brightness. NuGene Universal Serum uses human adipose stem cells (ASC), which are embedded within tiny spheres (nano-capsulation) that have properties similar to those found in cell membranes. This allows the ASCs to reach skin cells more effectively. Combined with polypeptides, antioxidants, and hyaluronic acid, NuGene Universal Serum can help you reclaim your complexion.