Age Spots/Hyperpigmentation
Sun Spots, sometimes known as liver spots, are age related freckles that are caused by years of sun exposure. This sun exposure stimulate melanocytes in the skin to produce pigment. This process is our body's natural way of protecting our skin. Unfortunately, our skin's own protective mechanism leaves our complexion uneven, our texture dry and dull appearing, and even worst, serves as a reminder of our increasing age. Fortunately, there are solutions to this problem.
One approach is the use of topical medication, commonly known as bleaching agents. For example, Hydroquinone has been the gold stardard in treating Hyperpigmentation. It's primary function is to inhibit the production of melanin. There are various strengths of this product, therefore you should consult your physician to determine which strength is best for you.
Although not a bleaching agent, another topical medication is Retin A, a derivative of Vitamin A. The exact mechanism for treating age spots is unknown. But the peeling from the retinol agent and the increase in cell turnover is thought to improve the degree of darkness in the pigmented areas. Rentin A is often combined with Hydroquinone. It is also used to treat fine lines, wrinkles and acne. Again, consult your physician prior to starting this medication.
Another group of topical agents to lighten pigmented areas on the face is Vitamin C or Vitamin E. Originally used to prevent damage to various components in the skin as well as stimulate collagen production, whereby strengthening the foundation of the skin, it was found that a secondary effect occurred as well to lighten discoloration of the skin. It is not as effective as the other topical agents but because it can Rejuvénate the face, in conjunction with the other agents, Vitamin C and E can be an adjunctive component in treating hyperpigmentation.
The last topical agent is Cosmelan, a product made Mesoestetic, a company from Spain. It uses a combination of Kojic acid, phytic acid, and Vitamin C to inhibit an enzyme, tyrosine kinase, found in the skin. This enzyme is require to produce pigment any blocking this enzyme, the skin has a difficult time making pigment thereby lightening the hyperpigmentation.
A secondary approach to treating hyperpigmentation is the use of chemical peels. There are various chemicals such as glycolic acid, alpha hydroxyl acid, salicylic acid, TCA, and phenol and they can be used in different concentrations and combinations. The differences, advantages, and disadvantages are beyond the scope of this discussion, but essentially they cause exfoliation of dull, damaged skin thereby removing some pigmented skin. When done correctly, they have wonderful results in Rejuvénating the face, improving fine lines, and evening complexion. However, when done incorrectly there is a risk of burns, worsening hyperpigmentation, or even scars.
Read Connie's Testimonial below:
"I'm writing to tell you how please I have been with the results of my IPL Laser procedures done by Dr. John Tang in Saratoga, CA. The procedure took about 45 minutes including the time for the numbing cream to take effect. The laser was mildly uncomfortable. Compared to Botox injections it was a breeze. The results were amazing! I am of Euroasion heritage, half Filipiino and the other half Dutch/French and have fair skin with lots of freckles, always have had the freckles. I'm now 51 and instead of looking cute and sun kissed, the freckles were starting to join and look like islands. Dr. Tang told me that the IPL laser would make a huge difference in the appearance of my skin. 
After one treatment, the majority of my freckles turned dark and fell off after seven days. Yes, literally fell off. The literature says that you will turn red like a sunburn, but I did not and was able to go about my daily business as usual. I couldn't stop staring at my skin, it looked so great. 
I've gone for a second treatment for the more stubborn sunspots and will probably go for a third. Additionally, Dr. Tang has been so amazing. He spends lots of time with me unlike some other doctors' offices that sweep you in and out with no bedside manners. 
Dr. Tang's office is confortable, new, clean, and the staff are very friendly. 
I highly recommend Dr. Tang for whatever skin improvement treatments someone may need. I also have him do my Botox maintenance. I think the results are superior and he didn't even charge me for a touch up last visit.
I'll tell everyone that meet how great he is! "
– Connie

A third approach in treating sun spots/hyperpigmentation is the use of lasers. Lasers can provide optimal results because it attacks the pigment at the deepest level of the skin. There are many different types of laser systems which treat this but currently, the gold standard is Intense Pulse Light (IPL). This system delivers pulses of light that are absorbed by the pigment. The pigmented cells get heated up, shrivel up, and eventually float to the surface of the skin and then eventually flake off in 3-7 days.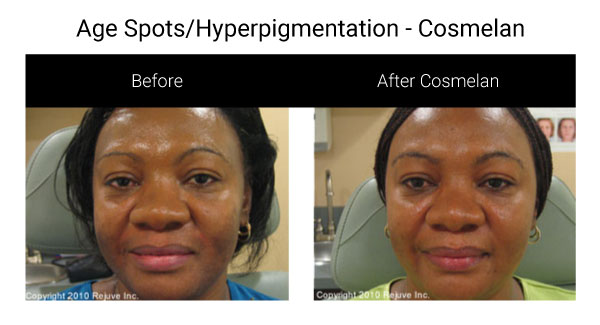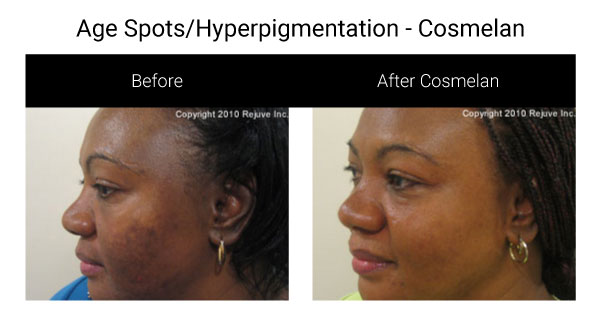 The procedure itself is not uncomfortable and there is minimal redness or swelling, whereby patients are able to work the next day. Treatments usually last about 30 minutes, with no prep-time required. Three to six treatments at 2-3 week intervals is the usual treatment plan. Another advantage of IPL treatments is that it can treat broken capillaries and stimulate collagen production to help firm the skin, earning its nickname "Photofacial." Most people are candidates for the procedure, but some are not including dark skin people, anybody with an active skin disease such as skin cancer, and people who have a history of keloid scars.
In best determining which treatment is best for you, you should also consult Dr. Tang or his Staff.
Cosmelan
Cosmelan®Depigmentation Treatment blocks the body's biological process that causes skin discoloration. Active ingredients lighten existing discoloration while inhibiting discoloration in the skin's deeper layers from surfacing.
Highly effective for all Hyperpigmentation including pregnancy
mask, sun spots or inflamed pigmentation
Suitable with ALL skin types
Non-invasive treatment
No sun sensitivity
Rejuvenates the skin
Brightens complexion
The above pictures are actual patients but the individual results will vary and these results may not occur in all patients.