Nectifirm
Stop Hiding Your Neck!
If you're wearing a fabulous statement necklace, you don't want your neck contradicting you! For many women, changes in the skin on the neck, beneath the chin, and around the jawline are an unwelcome sign of aging. The skin on your neck is different from the skin on your face, and while we often go to considerable trouble to protect and treat our facial skin, the neck often goes neglected. Aging, weight changes, and sun damage can all contribute to wrinkles and loose skin around your neck, leaving you with an unwelcome dilemma as your neck looks younger than your face. Even young women sometimes face this issue, when wearing makeup they realize that though their facial skin looks smooth and even, their neck shows freckles and an uneven skin tone. 
Rejuvé highly recommends Nectifirm, a new moisturizing treatment from Revision Skincare. Used just twice daily, Nectifirm has a powerful mix of ingredients that works to treat damaged skin around your neck. It improves skin's tone and texture, giving you back a youthful neck to match your beautiful face.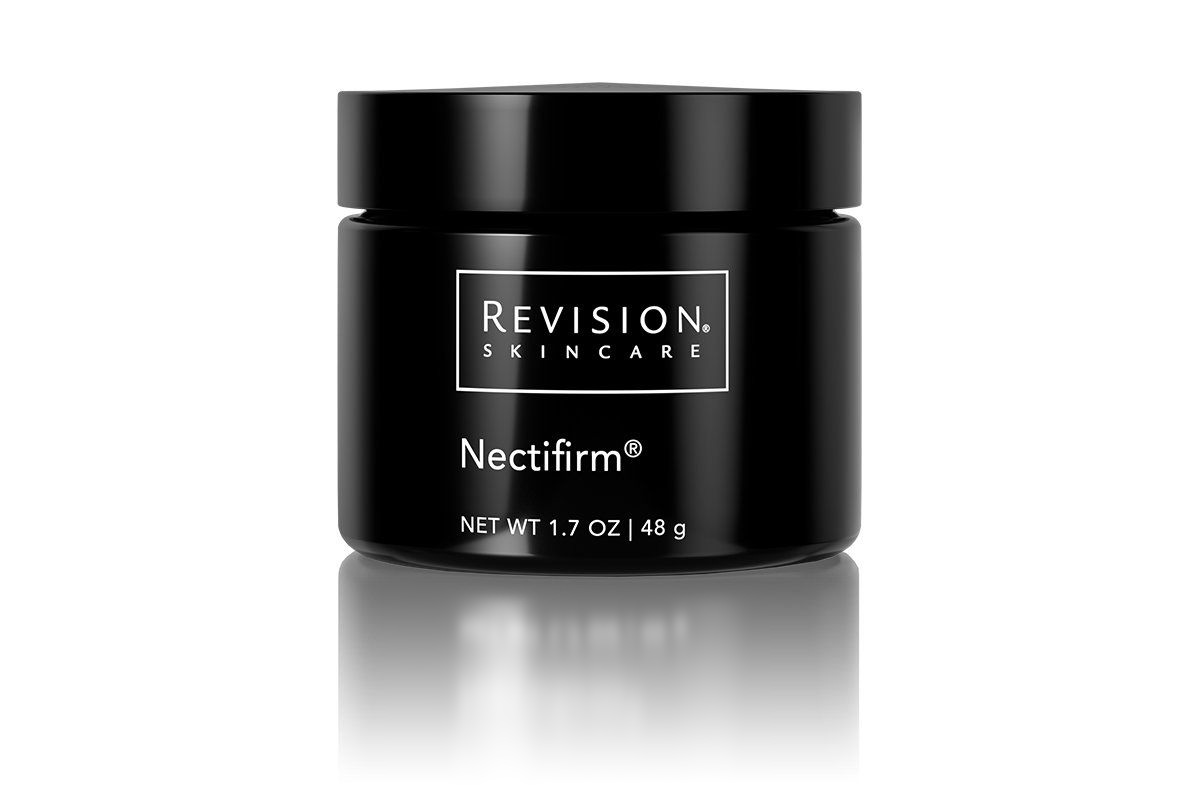 What can Nectifirm help treat?
Nectifirm can rejuvenate and smooth the skin around your neck, protecting your skin against the signs of aging while treating any problems that have already occurred. It reduces the appearance of lines and wrinkles, softens away roughness and "crepey" folds, and increases your skin's moisture and elasticity. Nectifirm also gives skin a tauter appearance, helping to make adipose (fat) tissue in the jowl area and chin appear less saggy and prominent.
Why does your neck change as you age?
Your neck and décolletage are exposed to sun, pollutants, and other damaging elements nearly as often as the skin on your face, but this fragile skin is less often tended to with moisturizer, sunscreen, and other anti-aging beauty products. This can result in a number of different effects on the skin of your neck and upper chest.
As seen in the illustration below on the left, the elastin in your neck is stressed simply from wear-and-tear over time. This can make the skin become lax. The largest muscle in your neck, the platysmal muscle, also sags over time, which can form bands (as seen on the right).



Other changes can occur as well. Fat (adipose) tissue can accumulate in the neck, creating a jowly or weak-chinned appearance (below, left). Deep creases and looser skin can be caused by wear-and-tear, and exacerbated by exposure to the sun. Hyperpigmentation, redness, and other discoloration from sun damage can also give your neck an aged appearance (as on the right). If you've been especially careful about using SPF on your face, this can leave you with a real mismatch!).


How does Nectifirm work?
Nectifirm is the only product that addresses all of the signs of aging that can impact your neck. This paraben-free cream uses a blend of peptides, botanicals, and specially-formulated ingredients to firm, smooth, and hydrate. With regular twice-daily usage (morning and night), Nectifirm makes the skin around your neck appear visibly smoother and firmer. Here are some of the special ingredients that make Nectifirm a powerful anti-ager:
Vitamin C (THD Ascorbate): The most stable form of oil-soluble Vitamin C, this antioxidant protects against sun damage and helps stimulate collagen production.
Algae extract (Enteromorpha Compressa): Similar to silk, it helps your skin retain moisture and regain elasticity and firmness. This extract also helps to reduce inflammation and irritation caused by UV damage.
Barley Extract: A powerful moisturizer that strengthens your skin's moisture barrier, both increasing hydration and reducing water loss.
Palmitoyl Tripeptide-5: This peptide increases the density of the dermal matrix, reducing lines and wrinkles by mimicking your skin's natural mechanism for producing collagen.
Bamboo, English Pea, and GlucosamineHCl: This botanical blend packs a powerful punch! It stimulates the production of collagen and elastin, and has been shown to reduce the appearance of wrinkles in just four weeks.
Ceramide 2: Reduces dryness and increases water retention by strengthening and repairing your skin's moisture barrier.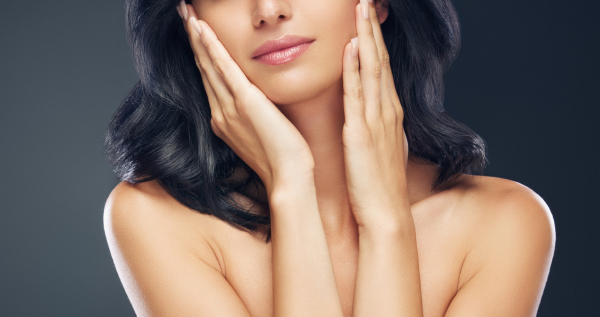 How soon can I expect results?
While some users see results from Nectifirm quite quickly, it normally takes about 6 to 8 weeks to see your true results. One jar lasts for two to three months, making Nectifirm a sensible solution for improving the appearance of your skin.

Can Nectifirm be used anywhere else besides the neck?
Though Nectifirm is specifically formulated to treat the skin on your neck, some do use it on other areas of the body where the skin has become lax. For example, a "poochy" belly or loose skin on the upper arms can be treated with Nectifirm. If you opt to use Nectifirm on other parts of your body, the results may vary from what you could expect using it on your neck.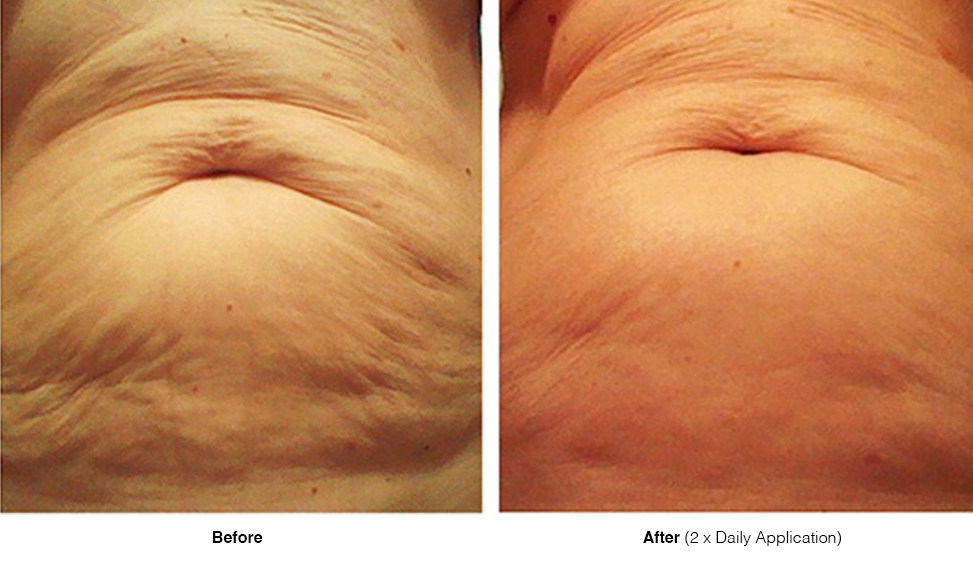 Where can I find Nectifirm?
Along with other Revision Skincare products, you can purchase Nectifirm right here in our clinic. Come in to Rejuvé today to learn more and get personalized product recommendations! 


Nectifirm on The View
Nectifirm on CBS Atlanta