Microdermabrasion vs Chemical Peels: Which is Better?
Skin peels of varying descriptions have been used for thousands of years.  According to historical accounts, ancient civilizations used masks composed of sour milk or wine residues to improve their appearance. Today, we may not use milk or wine, but chemical peels remain a proven method to help regain the smooth, healthy complexion you desire.
Chemical peels can be used to treat wrinkles, sunspots, and facial scarring.  Peels are most commonly performed on the face, and neck, although the chest, hands, arms, and legs can also be treated depending on the type of peel that is used.
By varying the amount of chemical and type of chemical applied, you can get different depths of peel while using the same chemical agent.  A deep peel results in the regeneration of collagen, the protein that is a major component in the body's connective tissue. Even a superficial peel can achieve good results with repeated applications.
Read on to learn more about chemical peels, then talk to Dr. Tang about the peel that would work best for you.
Chemical Peel FAQs
Is a chemical peel right for me?
You may be a candidate for a chemical peel if…
Your skin has brown spots
You are bothered by wrinkles
You have acne-prone skin
Your facial skin has a dull appearance
You are looking old and tired
You have had too much sun for too long
You would like to look refreshed
You are looking to build collagen
What is the difference between a microdermabrasion versus a chemical peel?
Microdermabrasion is a manual exfoliation of the dead skin cells on the epidermis, encouraging more rapid skin turnover and collagen stimulation. Microdermabrasion uses a wand or crystals combined with suction to gently remove the layer of dead skin cells that are lying on top of your skin. There are two types of microdermabrasion. Diamond tip microdermabrasion uses a fine, sand-like material at the end of a wand or applicator, while crystal microdermabrasion uses very fine aluminum oxide crystals that are blown onto the skin and then suctioned off.
Though painless, microdermabrasion will give you a pink hue which lasts a short time. The cost is low (sometimes even less than $100), but the intention of a microdermabrasion is not the same as a peel. The microdermabrasion procedure is done in order to give the skin a lighter, brighter appearance. Its aim is a rosy glow, not a change in the deeper parts of the skin. This means that wrinkles or skin discolorations are not noticeably improved by microdermabrasion. Some may see this as a plus: If you do not wish to change your skin texture and just want to look rosier, this could be the procedure to try. For example, maybe you want to look well-rested for a special occasion.
In addition, microdermabrasions are usually performed by estheticians who are licensed in California to treat only the superficial top layer of skin (epidermis). In order to treat the deeper layers of the skin (dermis), where most of the damage and pigmentation lies, only a medical doctor or a trained staff member working under a medical doctor can perform medical grade chemical peels.
If you do want to affect the deeper layers of your skin, a peel is the way to go. What level of peel is up to you: It all depends on your goals, the extent of the skin damage you wish to reverse, and what you are willing to pay in money and in recovery time.
What is a deep chemical peel?
While it may sound like a facial, a 'deep' chemical peel is actually a surgical procedure using potent chemicals such as glycolic acid, lactic acid, trichloroacetic acid, phenol, resorcinol, and Retin A. An acid solution is applied to the skin, which dissolves the outer layers, and regenerates collagen in the underlying skin.
The production of collagen decreases with age, and results in skin that is both less resilient and less healthy looking. Sun and ultraviolet rays also play a major role in the decreased collagen production.  A chemical peel is a proven method to increase collagen production.
A deep peel may be performed in an outpatient setting. However, because it is difficult to see and to care for yourself during the subsequent 48-hour period, having someone to stay with you is usually helpful. A full-face, deep chemical peel requires preoperative medication, usually Valium and an analgesic.
The results of a deep peel are long lasting.  A repeat peel done every two years will usually avoid the need for an invasive cosmetic surgical procedure.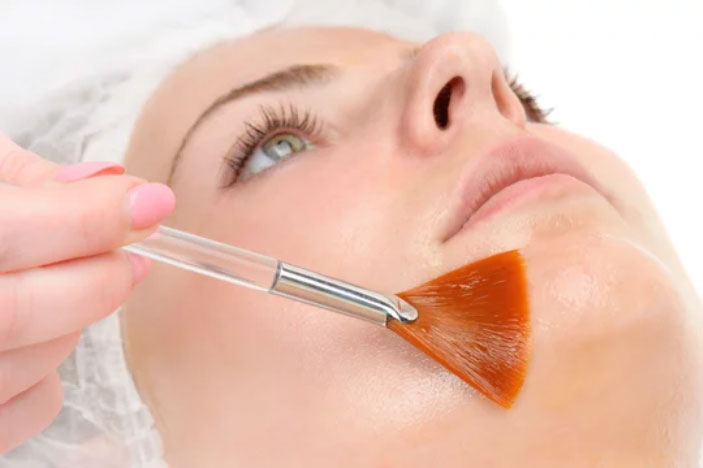 What is a superficial chemical peel?
A superficial peel utilizes lower concentrations of peeling agents such as alpha hydroxy acids, salicylic acid, trichloroacetic acid, phenol, retinoids, and vitamin C. A superficial peel addresses only the outer layers of skin and results in a healthy glow that lasts for several weeks. Repeat peels are necessary to maintain your results. Superficial peels are performed on an outpatient basis and no anesthesia is necessary.
Rejuvé Premiere Chemical Peel
Our 'NO DOWNTIME' Superficial Peel
Dr. Tang's superficial peel is a unique blend of active cosmeceutical ingredients, creating one of the safest 10-minute medical peels you can find in the San Jose Bay Area. Patients can receive this therapy during their lunch!
What results can I expect?
A dramatic improvement in epidermal texture: age spots, freckles, and superficial pigmentation are less obvious; dull, aged skin is removed; and collagen is stimulated, creating softer, smoother, younger-looking skin.
Will it hurt?
Unlike deep peels or strong glycolic peels which are quite uncomfortable, with this peel you may experience some burning sensation for only about one minute.  After this, the burning is then neutralized. There is no pain or discomfort after the peel is finished.
What happens after the peel? 
There is no immediate redness or swelling after the application. You can go right back to your normal work or social activities. However, there will be a considerable amount of peeling/exfoliation starting two days later that will last for 3-5 days. This is similar to the peeling that occurs from a major sunburn. It's a good idea to plan for this when you schedule your peel. For example, if a chemical peel is applied on Monday, then skin will likely start to peel on Wednesday. The peeling will last Wednesday, Thursday, Friday, likely Saturday, and be finished on Sunday.
The successful results of your chemical peel depend on this amount of peeling. Patients can achieve dramatic improvement in epidermal texture and tone, lessening of superficial lines, and a healthier, more youthful look and feel with no 'downtime' except the peeling. This renewal process is clinically proven to help pigmentation problems (such as age spots) fade, stimulate collagen production in the cells underneath, and prepare the skin to receive maximum results prior to other cosmetic procedures or the application of skin products.
What treatments or procedures are combined with chemical peels?
Depending on the specific problem or reason for the chemical peel, another chemical may be recommended. For example, if sun spots are being treated, a second chemical peel may be recommended to further exfoliate the deeper layers of skin to enhance the removal of the sun spots.
Chemical peels can also be combined with lasers or bleaching products to optimize the removal of spots. The Rejuvé chemical peel can be combined with various lasers to enhance skin texturing, soften deeper lines and wrinkles, or treat scars.
How long will my results last?
The Rejuvé chemical peel can be repeated to maintain results. Depending on your lifestyle and how well you treat your skin with skin products will determine the frequency of the chemical peel. For someone who minimizes sun exposure and uses a comprehensive skin regimen, one chemical peel per year is recommended. For someone who is active in the sun without sun protection and does not use any skin products (neither of which is something we recommend!), then a chemical peel is needed every 3 months to maintain the results of the initial peel.
Where can I find the best chemical peel near me?
The Rejuvé chemical peel is available in the San Jose Bay Area. We have patients come from all over the Bay Area CA including from San Francisco, Oakland, Santa Cruz, Salinas, Palo Alto, and the local communities of Saratoga, Los Gatos, Campbell, Cupertino, Monterrey, and Gilroy. We are happy to do complimentary consultations in person or Zoom appointments to see if you are a candidate for the chemical peel. Please contact us here or you can call us at 408-740-5320.