Skinfinity
Are you looking for a new way to perfect your skin? If you have issues with your skin's texture — whether facial wrinkles and fine lines, or loose skin and stretch marks on your body — Rejuvé is pleased to offer a new solution. Eclipse Skinfinity is an innovative new fractional ablative radiofrequency technology that can be used to treat those skin problems and more. Acne scars, skin rejuvenation, skin laxity, stretch marks, fine lines, and wrinkles can all be improved with Skinfinity treatments. The finely controlled ablation and thermal effects mean Skinfinity can be customized to treat your specific needs.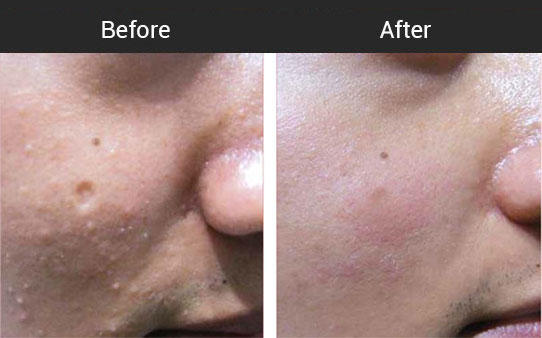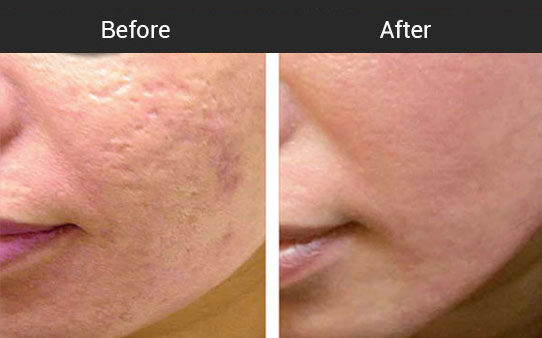 What skin concerns can Skinfinity treat?
Skinfinity can be used to address a wide range of issues both on the face and body, including:
Skin Resurfacing
Fine Lines and Wrinkles
Skin Rejuvenation
Stretch Marks (Striae)
Atrophic Acne Scars
Non-Keloid Hypertrophic Scars
Skin Laxity (skin looseness)
Skin Texture
Large pores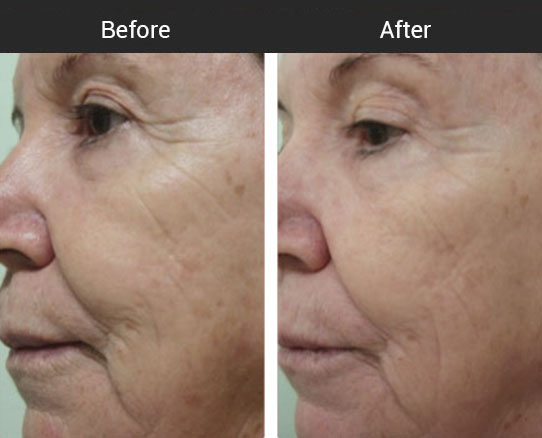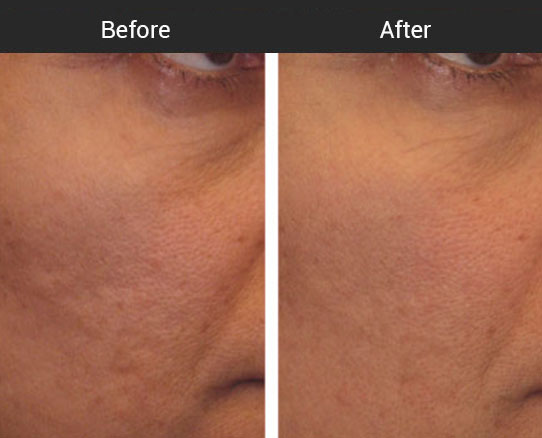 How does Skinfinity work?
Skinfinity uses patented In-Motion technology for treatments of the face and body. The In-Motion roller tip is applied to the treatment area, delivering focused radiofrequency through rows of pyramid-shaped electrodes. When
Dr. Tang
or
Alexandra Tang RN
glides the roller tip over your skin, each electrode delivers precise energy to the area to achieve the ideal Thermal Effect. This creates controlled injuries to the tissue called Micro-ablative Treatment Zones (MTZs). The MTZs stimulate an enhanced healing response, encouraging your skin to rejuvenate and improving your results. Both components of the treatment can be adjusted and customized to meet your individual skincare needs.

What makes Skinfinity different from other treatments?
The two-part Skinfinity approach — with the In-Motion Roller and the electrodes — is significantly faster and much more predictable than stamping bi-polar RF ablative technologies. The Micro Plasma Technology™ creates multiple controlled microperforations within small zones of thermal injury, similar to the pattern created by many fractionated skin resurfacing lasers. But this fractional resurfacing does not harm your skin's outer layer, so for many patients the healing time is faster than with traditional CO2 lasers.
Additionally, compared to fractional ablative bi-polar RF devices — which can create hot spots on the outer electrodes — Skinfinity's In-Motion treatment tip delivers consistent energy across the entire treatment area. Patients report that Skinfinity causes less discomfort and that they can get back to their regular activities sooner because of less downtime.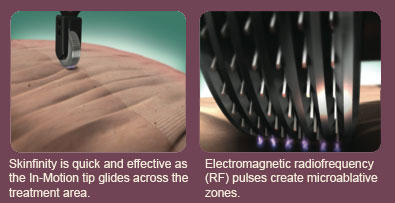 Who can use Skinfinity?
Though Skinfinity can get you similar results to treatments with a traditional fractional CO2 laser, it has no target chromophore. In plain English, that means that Skinfinity is safe for all skin types and can be used effectively on people from all different racial and ethnic backgrounds. Especially if you have darker skin that may not respond well to or be at risk of scarring from other treatments, Skinfinity may be a good option. This treatment can provide you with a much lower risk of complications compared to other light-based ablative treatments. To determine if you are a good candidate for Skinfinity treatments, schedule a consultation with Dr. Tang to go over your specific concerns and get personalized advice.
Can Skinfinity be used to treat stretch marks?
Skinfinity is one of the most effective treatments for stretch marks especially when the stretch marks are red which suggests that the stretch marks are fairly new and they will have the best response to treatment.  Because of the In-Motion roller technology, Skinfinity is ideal because the treatments are much faster than other devices. For optimal results, a series of treatments will be needed 1 month apart.
Where can I find the best treatment that can do skin rejuvenation, large pores, acne scars, and stretch marks near me?
At Rejuvé. We have the best technology, experience, and bedside manner that will give you the best possible results. Please contact us here or call us at 408-740-5320 to set up a complimentary consultation. We are proud to offer the Skinfinity RF device to the San Jose Bay Area serving the greater Bay Area CA such as San Francisco, Palo Alto, San Mateo, Santa Cruz, Aptos, and the local communities of Saratoga, Los Gatos, Campbell, Cupertino, Milpitas, and Morgan Hill.