LATISSE
WHAT YOU NEED TO KNOW ABOUT LATISSE®
What is LATISSE® (bimatoprost ophthalmic solution) 0.03%?
LATISSE® solution is a prescription treatment for hypotrchosis used to grow eyelashes, making them longer, thicker and darker.
What is hypotrichosis of the eyelashes?
Hypotrichosis is another name for having inadequate or not enough eyelashes.
How does LATISSE® work?
The active ingredient in LATISSE® is bimatoprost. Although the precise mechanism of action is not known, research suggests that the growth of eyelashes occurs by increasing the percent of hairs in, and the duration of, the anagen (or growth) phase. Lashes can grow longer, thicker, and darker because bimatoprost can also prolong the growth phase.
How do I apply LATISSE®?
LATISSE® is a once-a-day treatment you apply yourself each evening to the base of the upper eyelashes.
How soon will I see results?
LATISSE® users may see results starting at 4 weeks with full results after 16 weeks. The growth is gradual and not overnight.
Is LATISSE® a replacement for mascara?
No, LATISSE® does not work in place of mascara. However, mascara is a nice complement to LATISSE® to help make your new longer eyelashes look even more attractive.
Is LATISSE® different from nonprescription products that indicate eyelash growth?
LATISSE® solution is the first and only prescription treatment approved by the FDA for inadequate or insufficient eyelashes, growing them longer, fuller and darker.
What if I forget to apply one night? Or a few nights?
If you miss an application or a few, don't try to catch up. Just apply the LATISSE® treatment the next evening and stay on schedule.
What happens if I stop using LATISSE®?
If you stop using LATISSE®, your eyelashes are expected to return to their previous appearance over several weeks to months.
Can I get a prescription for LATISSE® from any doctor?
First, ask your doctor if LATISSE® is right for you. Although any doctor can prescribe LATISSE®, some may be more familiar with this product than others. When making an appointment, be sure to tell the receptionist that you want to find out more about LATISSE®. Rejuvé will be one of the first clinics to carry Lattisse®.
What are the possible side effects of LATISSE®?
The most common side effects after using LATISSE® solution are an itching sensation in the eyes and/or eye redness. This was reported in approximately 4% of patients. LATISSE® solution may cause other less common side effects which typically occur on the skin close to where LATISSE® is applied, or in the eyes. These include skin darkening, eye irritation, dryness of the eyes, and redness of the eyelids.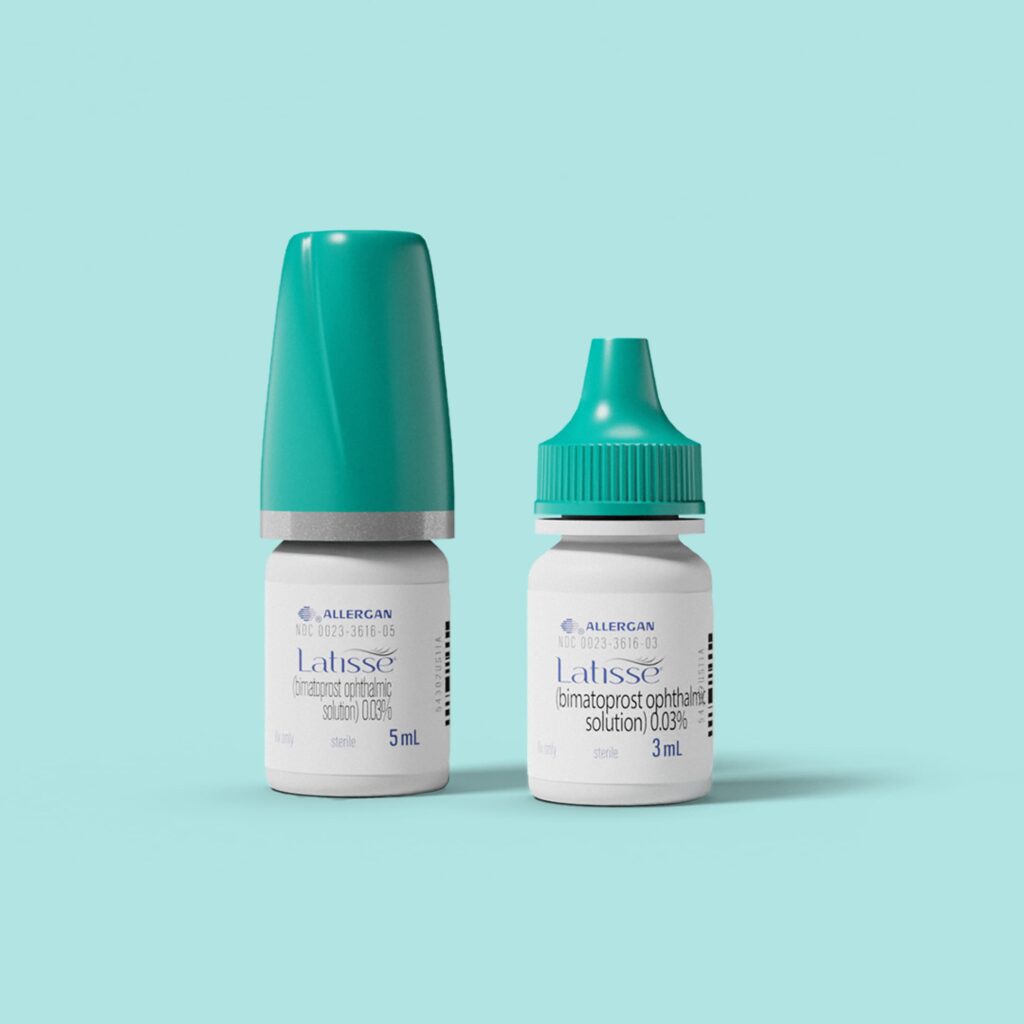 What should I do if I get LATISSE® in my eye?
LATISSE® solution is an ophthalmic drug product. If any gets into the eye, it is not expected to cause harm. The eye should not be rinsed.
Who should NOT use LATISSE®?
Do not use LATISSE® solution if you are allergic to one of its ingredients.
What are the ingredients of LATISSE®?
Active ingredient: bimatoprost. Inactive ingredients: benzalkonium chloride; sodium chloride; sodium phosphate; dibasic; citric acid; and purified water. Sodium hydroxide and/or hydrochloric acid may be added to adjust pH. The pH during its shelf life ranges from 6.8-7.8.
How do I apply LATISSE®?
Please see the following link.
http://www.latisse.com/HowtoApply.aspx?state=11
What is skin hyperpigmentation?
This is a common, usually harmless condition in which patches of skin become abnormally darker than the surrounding skin color. This occurs when an excess of melanin, the brown pigment that produces normal skin color, forms deposits in the skin. Hyperpigmentation is a possible side effect of LATISSE® but may be reversible after you discontinue use.
What is elevated intraocular pressure (IOP)?
This is a condition where the pressure inside the eye is higher than normal. LATISSE® may decrease IOP. So talk to your doctor if you are using IOP-lowering medications. Concurrent administration of LATISSE® and certain IOP-lowering medications in ocular hypertensive patients should be closely monitored for changes in intraocular pressure.
How can I get Latisse or find Latisse near me?
You can come to our office and once you have been medically cleared and you are found to be a good candidate you can pick up Latisse at our office in Saratoga, CA. Rejuvé is proud to offer Latisse near you and in the San Jose Bay Area which serves the nearby cities of Saratoga, Los Gatos, Campbell, Los Altos.
Click here for case studies feature photographs of real women with real results.