Fasting Mimicking Diet
What is a Fasting Mimicking Diet?
Fast mimicking is a type of modified fasting. Instead of abstaining from food completely like a traditional fast, you still consume small amounts of food in a way that produces the therapeutic benefits of fasting.
A fast mimicking diet typically lasts about five days and follows a healthy protocol low in carbs, protein, and calories and high in fat. Calories are kept at around 40% of normal intake. This allows the body to stay nourished with nutrients and electrolytes will less stress than normal fasting—but still receiving the same benefits.
Long-term calorie restriction and long-term fasting can harmful, but fast mimicking is safer and more effective.
Who Created the Fasting Mimicking Diet?
The highly regarded Dr. Valter Longo (University of Southern California Longevity Institute — one of the world's leading biomedical and longevity research centers) was funded by NIH/NIA. His test subjects reported increased and enhanced longevity, overall fat reduction, improved blood markers, reduced blood sugar, blood pressure and cholesterol, and improved vitality.
Fasting Mimicking and Intermittent Fasting vs Continuous Calorie Restriction
Fasting has many iterations, including:
Continuous calorie restriction: Reducing intake of calorie needs by 25%. Reduces aging and increases longevity. Studies show that people could only reduce their calorie intakes by 12% on average.
Alternate day/Intermittent fasting: Has benefits, however some may tolerate this method better than others. One downside is that it's not been fully explored.
Prolonged nighttime fasting: Reported to be easy to adopt, minimally disruptive.
Fasting Mimicking: Fasting for 5 days periodically each month. Maybe be easier for some to do on an ongoing basis, but requires big lifestyle changes. May improve autophagy more than alternate methods. Contraindicated with some meds and conditions.
Promising Results From Medical Testing
In 2017 a randomized, controlled trial involving 100 patients was published in a peer reviewed journal showing that 71 patients who completed 3 cycles of the Fasting Mimicking Diet (5 days FMD each month for 3 months) was shown to improve the following:
Fasting glucose
IGF‐1/IGFBP1
CRP (C- reactive protein) – marker of inflammation
Stem Cells
Body weight
Avg. 5.7 lbs loss
Reduced abdominal fat
Reduced waist circumference
Increased lean body mass
Systolic and diastolic BP
Total cholesterol
Circadian Sleep Cycles
Renewal of Cells
Immune Balance
Neuroendocrine homeostasis

Best methods of calorie restriction may be guided by patient preference, and continued studies may identify where one choice is superior or inferior, based on an individual's specific health needs.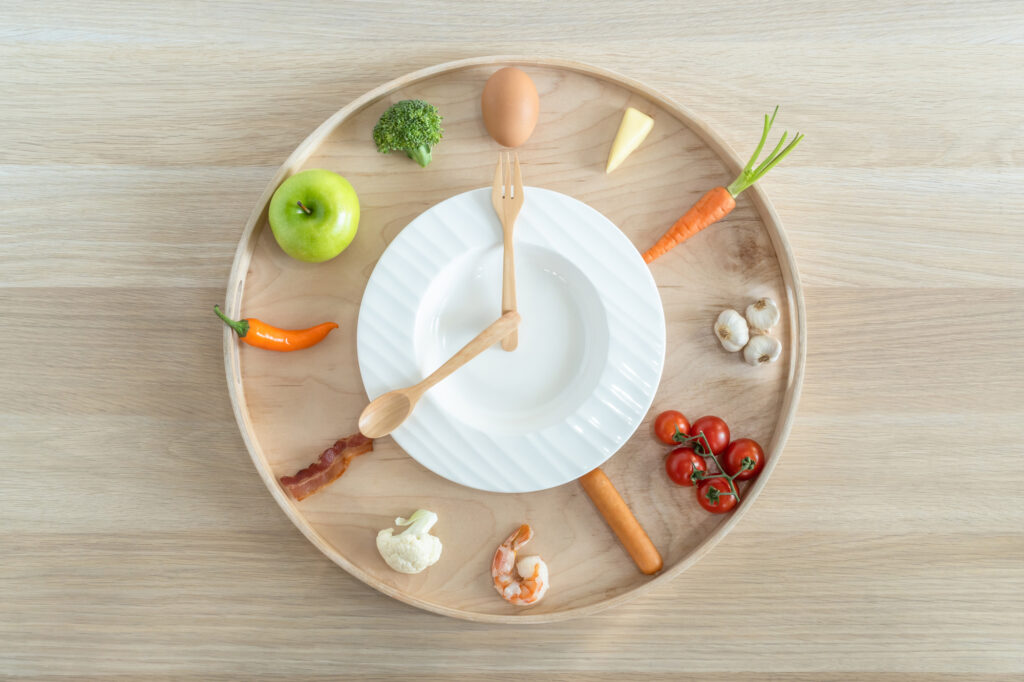 Additional Benefits
The Fasting Mimicking Diet (FMD) also showed to:
Improve immunity, decrease autoimmune conditions
Promotes hippocampal neurogenesis – good for memory and mood
Improves cognitive performance
Improved C‐reactive protein levels
IGF‐1 insulin‐like growth factor‐1
Promotes stem cells and regenerative markers
Preserves bone density
With over 34% of U.S. adults possibly being classified as having a metabolic condition (and frequency increasing with age), it's important to explore alternative diets and use what works for you. FMDs are ideal for a number of conditions. Metabolic health FMDs have been shown to have a positive impact on a number of important markers of metabolic health, including:
Abdominal Obesity
Cholesterol & Triglycerides
Fasting Blood Sugar
Systolic & Diastolic Blood Pressure
C‐Reactive Protein
The Health Benefits of Autophagy
The Fasting Mimicking Diet incorporates and promotes autophagy, which is a natural and regulated degradation system (meaning literally "self-devouring") which results in the body disassembling superfluous or dysfunctional cell components. The body digests internal unwanted and unneeded cellular components as a way of cleaning house, reducing inflammation, and improving the immune system in the process.
FMDs & Disease States
Fasting Mimicking Diets and Intermittent Fasting for men and women can be done separately or can be combined to achieve various goals. It is always best to consult a medical doctor or medical professional who can evaluate your own personal medical history and do a thorough physical examination to determine if you are the right candidate. Dr. Tang is very knowledgeable in both approaches as well as other diets and can help guide you through each one
As a reminder, this information provided on this website is not intended for distribution, more as information for our patients and readers to consider for themselves. This information has not yet been evaluated by the FDA currently. FMD's are not designed to diagnose, treat, cure or prevent any diseases. It's merely a lifestyle change that can help serve as a catalyst to a healthier, happier life. Please contact us here or call Rejuvé today at 408-740-5320 if you're interested in scheduling a consultation. We are proud to offer the best personalized diet and intermittent fasting advice for the San Jose Bay Area serving San Francisco, Palo Alto, Santa Cruz, Aptos, and Monterrey and the local communities of Saratoga, Los Gatos, Campbell, Cupertino, and Morgan Hill.
Fasting Mimicking Diet Helps to Reduce Protein in Urine in Patients with Type 2 Diabetes.
Article courtesy of Dr. Joel Kahn, MD, who is a Clinical Professor of Medicine at Wayne State University School of Medicine, one of the world's top cardiologists, a best-selling author, lecturer, and a leading expert in plant-based nutrition and holistic care.
Novel fasting interventions have gained scientific and public attention. Periodic fasting has emerged as a dietary modification promoting beneficial effects on metabolic syndrome and the 5-day Fasting Mimicking Diet (Prolon) has the most scientific support.
The original randomized trial was in healthy volunteers. Now a "proof of concept" study on patients on medication for Type 2 diabetes mellitus (DM) has been published.
Study Objective:
Assess whether periodic fasting reduces protein in the urine (albuminuria) in patients with Type 2 DM.
Study design/participants:
Individuals with type 2 diabetes (n = 40) and increased protein in the urine (albumin-to-creatinine ratio ACR) were randomly assigned to receive a monthly fasting-mimicking diet (FMD) for 5 days every month for 6 months or a Mediterranean diet followed by a 3-month follow-up.
Study Results: F
MD was well tolerated with 71% to 95% of the participants reporting no adverse effects.
After 6 months, FMD led to a reduction of protein in the urine (ACR) in patients with microalbuminuria levels at baseline but not in those with larger amounts called macroalbuminuria.
FMD reduced a research measure of insulin resistance called HOMA-IR.
At follow-up, only HOMA-IR reduction [-1.9 (-3.7, -0.1), P ≤ 0.05]) was sustained.
Study conclusions:
Improvement of microalbuminuria (ACR) and of markers of insulin resistance suggests the potential beneficial effects of periodic fasting in type 2 diabetes.
Study Comments by Authors:
"After six months, FMD led to significant reductions in body weight of 22 pounds, 1.4% decrease of hemoglobin A1C, and 59% improvement in HOMA-IR, a marker of insulin resistance. At the study's end, antihyperglycemic medication was reduced in 67% of participants in the FMD group compared to baseline. In contrast, 21% of the participants of the Mediterranean Diet group had to increase their antihyperglycemic medication"
"For a diabetes program to effectively impact the daily lives of patients, safety, efficacy, and adherence are equally important," said William Hsu, M.D., Chief Medical Officer at L-Nutra and former Vice President at Harvard's Joslin Diabetes Center. "With these wide-ranging results, we have feasibility data to suggest that Fasting-Mimicking Nutrition Program, combined with personalized nutrition consultation, can be safely and effectively integrated into clinical practice to complement current practice."
About the author:
At his core, Dr. Joel Kahn believes that plant-based nutrition is the most powerful source of preventative medicine on the planet. Having practiced traditional cardiology since 1983, it was only after his own commitment to a plant-based vegan diet that Dr. Kahn truly began to delve into the realm of non-traditional diagnostic tools, prevention tactics, and nutrition-based recovery protocols.As with anything you read on the internet, this article should not be construed as medical advice; please talk to your doctor or primary care provider before changing your wellness routine. This article is not intended to provide a medical diagnosis, recommendation, treatment, or endorsement.
Opinion Disclaimer: The views and opinions expressed in this article are those of the author and do not necessarily reflect the official policy of WHN/A4M. Any content provided by guest authors is of their own opinion and is not intended to malign any religion, ethic group, club, organization, company, individual, or anyone or anything.
References/Sources/Materials provided by:
https://www.linkedin.com/in/joel-kahn-md-757a59225
https://twitter.com/drjkahn
https://www.kahnlongevitycenter.com
https://www.kahnlongevitycenter.com/blog/weight-loss-and-improved-control-in-diabetes-type-2-with-the-fasting-mimicking-diet
https://pubmed.ncbi.nlm.nih.gov/35661214