Fractora
What Is Fractora?
Fractora is a minimally invasive laser treatment that uses fractional resurfacing and rejuvenation techniques to restore smooth, young-looking skin and slow down the aging process. It uses a unique ablative system combining radiofrequency (RF) treatment with deep, needle-based heat which helps to tighten skin, improve skin texture, improve wrinkles, reduce large pores, and lessen acne scars.
How Does It Work?
Fractora uses a fractional laser device that targets the tissue underneath the skin's surface to revitalize skin cells and improve the appearance of the skin. It uses a unique ablative system combining radiofrequency (RF) with deep, needle-based heat. Clinical studies have shown that the procedure results in more radiant, younger-looking skin, an improved complexion, and a reduction in skin blemishes. Depending on the needs of the patient, these changes can be achieved after a single or several sessions. Fractora can be used on active cystic acne and acne scars.
What Areas Can Be Treated?
Fractora can treat any area of the skin already showing signs of aging. Most patients have the following areas treated: neck, mouth, smile lines, cheeks, lower and upper eyelids, and forehead. Face and body areas that exhibit wrinkles, discoloration, or acne scarring are suitable for treatment as well.
How Many Treatments Will I Need?
The number of sessions will be determined by your specific Fractora treatment plan, but expect between 1-3 sessions.
How Quickly Will I See Results?
Fractora treatment requires approximately 30 minutes to be performed. Patients typically apply a topical anesthetic agent one hour before the procedure. Most patients observe significant improvement after 2-3 months with just one session, but many patients choose to have a series of multiple treatments performed to achieve even greater results. Multiple treatments are also ideal for patients who want more treatments at lower energies.
What Should I Look After The Treatment?
When you leave, there will be redness and swelling in the treated area. It is also possible to see visible pinpoint marks from the tip as well. The swelling and redness will subside over the coming days, but you should expect that it can persist for up to a week (or more if you are prone to swelling), particularly on the higher settings. Usually, after 1-3 days, you will see some crusting on the skin that can last up to 1 week. You should be able to put on makeup and cover most redness after 7 days depending on your body's healing.
What Kind Of Expectations Should I Have?
Many patients go through multiple sessions, so it would be realistic to expect to undergo treatment more than once. Fractora results will continue to develop over the coming months as new collagen and elastin are created. The skin undergoes further renewal per session, leading to firmer skin and a reduction in textural inconsistencies, wrinkles, scarring, and pores. However, to maintain the results, follow-up treatments will be needed to keep up with the aging body.
What Is The Benefit Of Fractionated Energy?
Scientific studies have demonstrated that Fractora's Fractionated RF energy is effective in resurfacing and renewing skin. These benefits of Fractora RF technology include healthier and firmer skin, improved skin texture, decreased fine wrinkles, smaller pores, and decreased scars.
Can Anyone Use Fractora?
Fractora's technology is able to treat most skin types. All skin shades are treatable except in the very dark skin patients there is a rare potential to hyperpigment when the treatment settings are done aggressively so caution is recommended. In these situations, we will recommend pre-treating patients with a bleaching agent prior to the treatment and even in between treatments if the patient understands the risk or sometimes we will avoid the treatment altogether. This can be discussed at your consultation.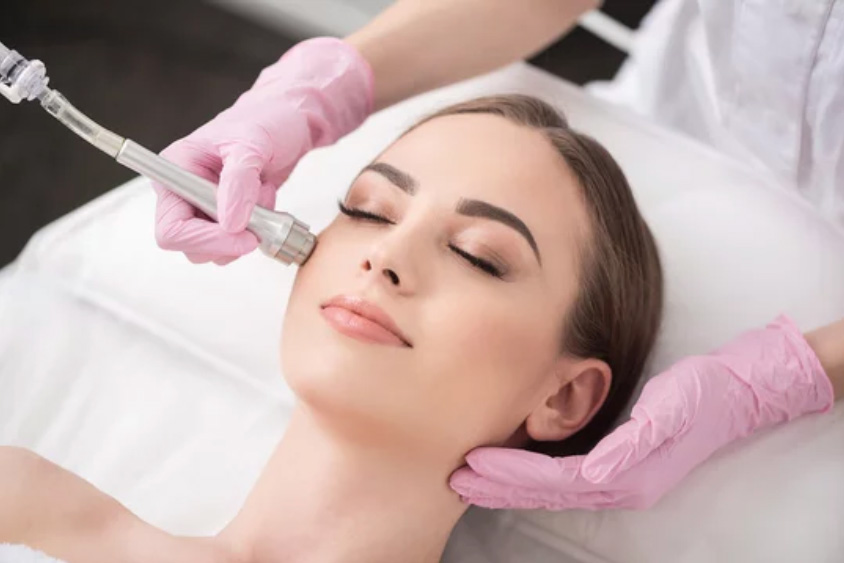 What Is RF Energy's Benefit?   
RF energy rejuvenates collagen production by heating the subdermal skin layers in a controlled fashion. As a result, skin texture and complexion are enhanced, giving you a younger, fresher look.
Can Fractora Be Used To Treat Acne Scars?
Yes. Studies have indicated a significant resolution of cystic acne and acne scars by 50%.
Can This Be Used In Combination With Other Treatments?
Yes, Fractora can be used in the same treatment session or a few days after other treatments. It can even be used in combination with injectables or supplementary energy treatments to produce a more comprehensive full-face result known as FracTotal Facial.
When Can I Put Make-Up On After Treatment?
This will vary from patient to patient. In general, we recommend 7 days post-treatment. Mineral make up is the best, and it will cause the least amount of clogging. Any attempt to apply makeup too soon will cause the skin to break out. Miniscule lesions can last a couple of days post-treatment, while slight redness can last for up to one week.
What Kind Of Post Procedure Care Is Required?
Patients should moisturize the treatment area especially if the skin is dry, avoid direct sun exposure, and keep the area very moist. Patients are recommended to use a gentle cleanser once to twice a day. Patients are also advised to use a good sunscreen with a broad sun protection factor (SPF). Sunscreens not only reduce the skin cancer risk, but they also reduce the effects of aging and smooth out wrinkles, as well. Patients are asked to avoid any Retin A, glycolic acid, lactic acid, salicylic acid or other acids during the time the skin is healing up for 1-2 weeks. Patients can also take nutritional supplements as recommended to help build collagen.
Am I A Candidate For Fractora?
We would recommend one-on-one consultation with Dr. Tang or Alexandra Tang RN to determine whether you are a good candidate for Fractora. The patients in general who benefit the most are those who have mild to moderate skin laxity (in other words, skin that begins to look and feel less firm or have crepey skin), drooping eyelids, acne scars, fine lines and wrinkles, large pores, loose skin under the neck, or sagging under the chin.
Where can I find the best FRACTORA?
At Rejuvé, we are proud to offer the Fractora for the local communities of Los Gatos, Saratoga, Cupertino, Campbell, Los Altos, Palo Alto, Mountain View, Milpitas, and the greater San Jose Bay Area CA. Please contact the office or call 408-740-5320 to make your appointment today!