Emsculpt Neo®
Millions of people want to change their bodies so they look and feel better. The ideal way to make this change is to burn fat while also adding muscle. A new device called the Emsculpt Neo makes it simpler for people to achieve both goals of getting rid of fat and toning muscle with a non-invasive procedure. This FDA-approved device gives people a safer and more effective way to get the body they want without spending too much or spending weeks in recovery. 
The Emsculpt Neo outperforms other devices such as the various "Coolsculpting" machines, which reduce adipose tissue (body fat) by approximately 22 percent. The Emsculpt Neo boasts a 30 percent reduction in this type of fat, a significant improvement that shows in the results. It contracts muscle fibers at a level of intensity that's not possible through exercise. This promotes adaptation by the muscles and strong growth of both the cells and muscle fibers. Various clinical studies point to patients seeing upwards of 25 percent increases in muscle volume after finishing a series of Emsculpt Neo sessions.  
The RF heating component of the device raises the temperature of muscles, which then primes them for the intense contractions. It's similar to a weightlifter who might use an elliptical for 10 minutes before lifting. The RF heating works because it raises deep fat into a state known as "apoptosis" which means they're destroyed and then slowly are absorbed and eliminated through the body's natural processes.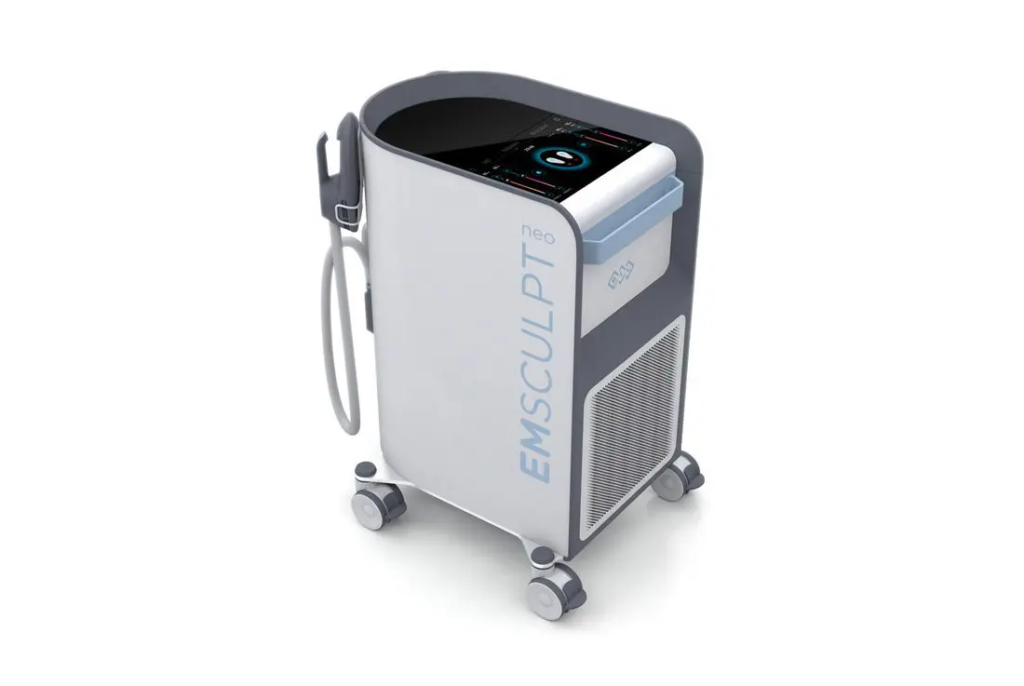 Are You a Candidate? 
Considering an Emsculpt Neo procedure and wondering if you're a candidate? You're in luck, because the impressive results from using the Emsculpt Neo are available for people with BMI's up to 35. It's open to millions of people who want fast, safe, and clinically-proven fat reduction and muscle stimulation results without surgery. It provides people with body fat and decreased muscle tone a convenient and reliable way to address their concerns and improve the way they feel about their bodies. 
Body areas you can target with the Emsculpt Neo include: 
Abdomen 
Buttocks 
Arms
Thighs
Calves 

People who elect for an Emsculpt Neo procedure can expect to see improvements in tone and/or muscle bulk of their abdominal region, strengthening and toning of their arms and lower legs, and overall firmness around any treated areas.  Contact us for a consultation so we can assess your candidacy and create a personalized plan for your fat loss and muscle toning/building goals. Dr. Tang and his staff understand how to use the devices to achieve optimal body shaping results for every patient, leaving them satisfied and eager to try additional treatments if necessary. 
The Emsculpt Neo Procedure
After receiving a consultation at Rejuvé, our staff will set patient appointments for typically four 30-minute treatments. These are often scheduled five to 10 days apart, a timeframe found to create the best conditions for great fat-reduction results. Some patients may opt to do additional treatments for more optimal results.
Key Emsculpt Neo technologies include:
High-Intensity focused electromagnetic energy (HIFEM) is safe and effective based on the results of multiple clinical studies. This tech creates supramaximal contractions in the body, which promote muscle building at a speed that can't be matched by strength training. These contractions place tension on the muscles, allowing them to grow, while also displacing fat.
 Radiofrequency applies heat to subcutaneous fat which then destabilizes the fat cells without harming any surrounding muscle
 These two technologies combine to make the Emsculpt Neo an exciting new method for natural-looking and safe fat reduction without the need of surgery
The product creates permanent and noticeable results for people that can improve their self-confidence and their overall health.
Post-Procedure Recovery Tips
Many people considering other fat reduction procedures are worried about lengthy and painful recovery periods. They have jobs and busy lives, and can't be immobile for days or weeks. Since fat reduction and muscle building with Emsculpt Neo is a non-invasive procedure performed in our hygienic Rejuvé office, there's no post-recovery period. People who undergo treatment with the Emsculpt Neo can resume their normal activities as soon as they walk out the door. There's no bandages or precautions involved, making this effective device also one of the most convenient.
We understand if you have questions about the recovery or how the device works. Call us any time at (408) 740-5320 to discuss the procedure and we'll answer any questions you might have about the new Emsculpt Neo.
The Emsculpt Neo provides a new 2-in-1 approach to fat reduction and muscle building. By using both HIFEM and RF technologies, it encourages muscle stimulation and growth while also dissipating fat cells which are then flushed out of the body through its amazing metabolic processes.
To learn more about the transformative benefits of the Emsculpt Neo near me, schedule a consultation today. Rejuvé is proud to offer the Emscupt Neo for the San Jose Bay Area CA, serving the cities of San Francisco, Santa Cruz, and Palo Alto and the local communities of Saratoga, Los Gatos, Campbell, Cupertino, Aptos, Morgan Hill, and Gilroy.