Cosmelan
Cosmelan® is a professional depigmenting method that fully removes the most severe and resistant spots with maximum efficacy and safety.  It can be used to treat hyperpigmentation or a condition called Melasma which is often referred to as pregnancy mask which is darker pigmentation in certain areas of the face particularly the forehead, cheeks, and upper lip though not areas are affected at the same time or equally.
The cosmelan® system is a unique combination of active ingredients such as Azealic Acid, Salicylic Acid, Kojic Acid, Phytic Acid, Niacinamide, Aloe Barbadensis, Vitamin C, Vitamin E, and others of proven efficacy that provides it with a unique and dual action for a short- and long-term outcome by blocking an enzyme called Tyrosine Kinase which helps block the pigment formation thereby lightening the hyperpigmentation or Melasma:
Its effects has:
Corrective action: visibly removes and attenuates spots.
Regulating action: it regulates the overproduction of pigmentation to prevent the spots' reappearance.
Spectrum solar radiation and helps control skin pigmentation.

What steps are involved in the Cosmelan treatment?
After being evaluated to be an appropriate candidate, you will come in to have the Cosmelan 1 applied in the office.  This will take an average of 10-15 minutes.  The Cosmelan is left on the face for a total of 8-12 hours before the mask is removed and washed off at home.  You will continue the Cosmelan 2 system at home for the remainder of the process with instructions on how to complete the treatment.      
Is there any downtime with the Cosmelan? 
Yes.  On the day of the application, you will be going home with what appears to be mud on the face.  Patients are usually not able to do any social things that day. Then the Cosmelan 1 application will make the skin pink and irritated for several days which is followed by some amount of peeling. Peeling can last several days up to 2 weeks for patients who have very sensitive skin. The peeling is actually a positive reaction as it often helps to peel away some pigments which starts the improvement.
How long does it take for the Cosmelan to take effect in improving the hyperpigmentation or Melasma?
Normally, it will take 1-2 months to start seeing the benefits of the Cosmelan.  It takes time for it to block the enzyme that builds the pigment in the skin so you have to be patient.  For the difficult cases, it may take 3-6 months to see the full results.  Some patients can see almost full resolution of the pigment while others may only see a partial improvement.
Can Cosmelan be combined with other treatments?
Yes.  Cosmelan can be used in combination with chemical peels such as ViPeel or with lasers, oral medications such as Tranexamic Acid and other topical creams that include Hydroquinone, Kojic Acid, Retinoic Acid, etc.  It will be best to consult with Dr.Tang to come up with a treatment plan that considers all of the available treatments.
Where can I find a Cosmelan clinic near me?
Rejuve is proud to offer Cosmelan near me to the South Bay Bay Area serving the cities of San Jose, San Francisco, Santa Cruz, and Palo Alto and the surrounding communities of Saratoga, Los Gatos, Campbell, Los Altos, and Cupertino.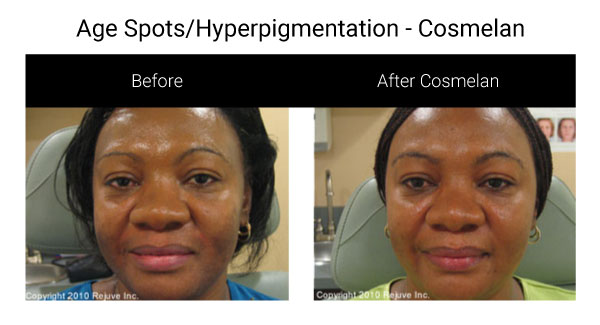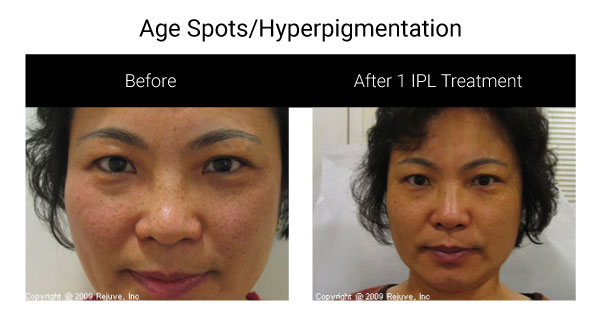 *The above pictures are actual patients, but individual results will vary and these results may not occur in all patients.